Article, image, and inventory data
From all your brands, on one platform
Obtain your content conveniently at any time via nmedia.solutions. You receive both the e-commerce-capable article and image data as well as the inventory data of all brands in the standard format and, if desired, in your own merchandise management format. Through the platform, we enable you to have a uniform content supply across all brands.
Central content platform
Standardized export format (CSV) for the content of all brands

Desired transmission path
Choose between e-mail, FTP server, or EDI/API (individual transmission path and export format)

Automated content updates
Increase content quality in the merchandise management system and use it in your B2C online store
Content from over 400 brands
E-commerce-ready article and inventory data for all your sales channels.
View inventory
Easily and directly visible in the shop or in the shopping cart at the respective article.
Article and stock data
Fully automated into your system landscape (B2B store, ERP, etc.).
A central content platform for article, image and inventory data
In addition to the actual product, content also plays an important role in the successful sale of merchandise.
Our solutions provide you with all article and image data as well as inventory data of your top brands. Everything is bundled in one place, in one format and accessible with just one login.
Decide whether you want to obtain the master data and inventories via self-service or automated.
Use the content for your merchandise management system, your B2C online store or for marketing and sales campaigns, among other things.
Another service offers retailers is the automation of the B2C shop in their own inventory management. This is a great service that saves a lot of time and of course money. In the B2C shop Shopify, our stock's goods are automatically displayed from our inventory management system. These are then offered in our internet shop.
Activate transmission path for article and stock data
Set up your transfer path in just a few steps – click here to do so. You can find more information and detailed instructions in our support section or here. Choose between 3 transmission paths:
E-mail
The inventories will be sent to you as standard CSV via e-mail.
FTP
By entering an FTP destination address, the inventories can be transmitted via FTP regularly.
EDI (individual)
If you would like to have an individual transfer of the stocks, we can serve individual interfaces on request. Just activate this option and a project manager will contact you.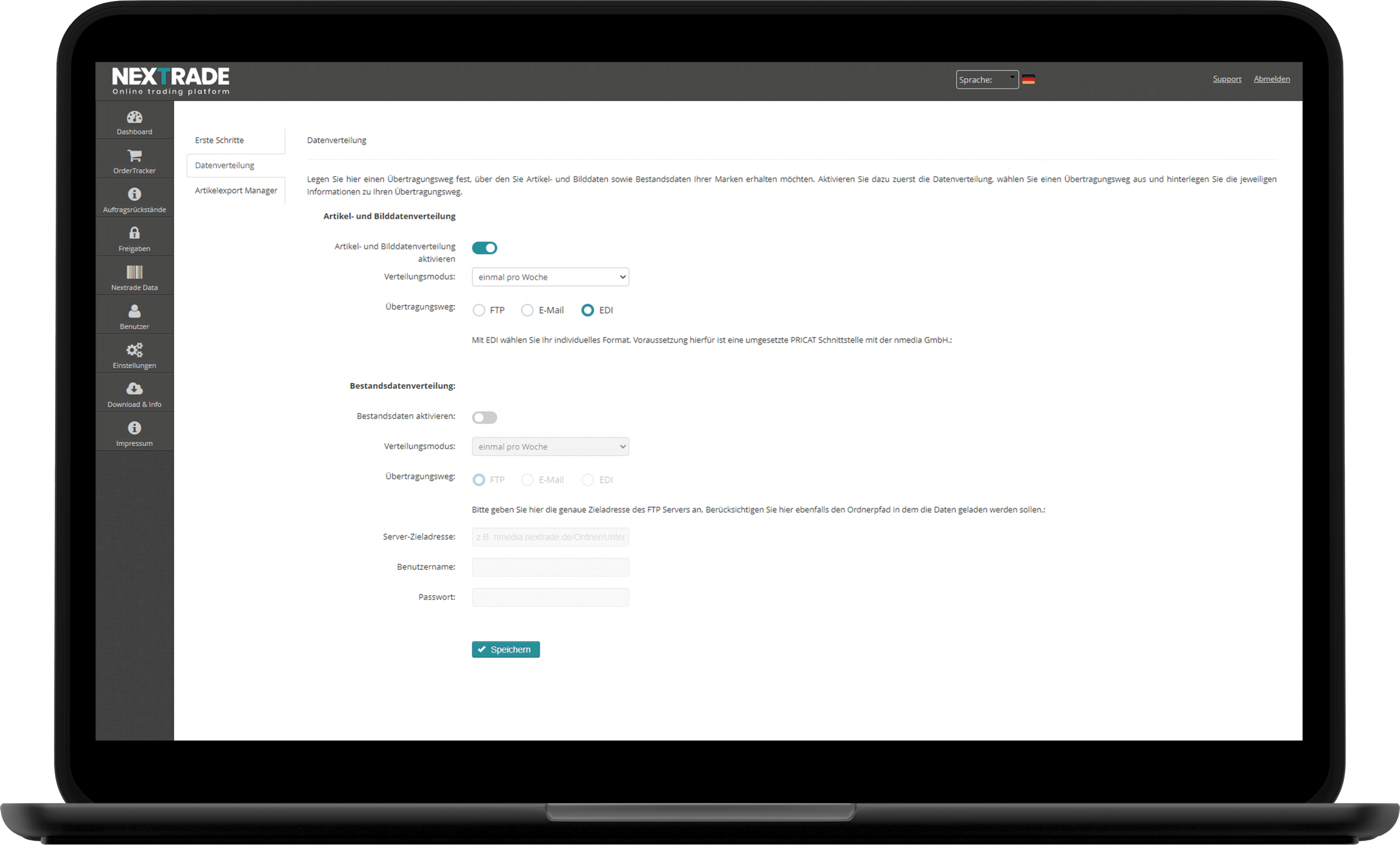 You want to order directly via the order shops?
Take the chance and order at your individual conditions. Have the goods delivered to your shop or directly to your customers' homes.
Order
Dropshipping